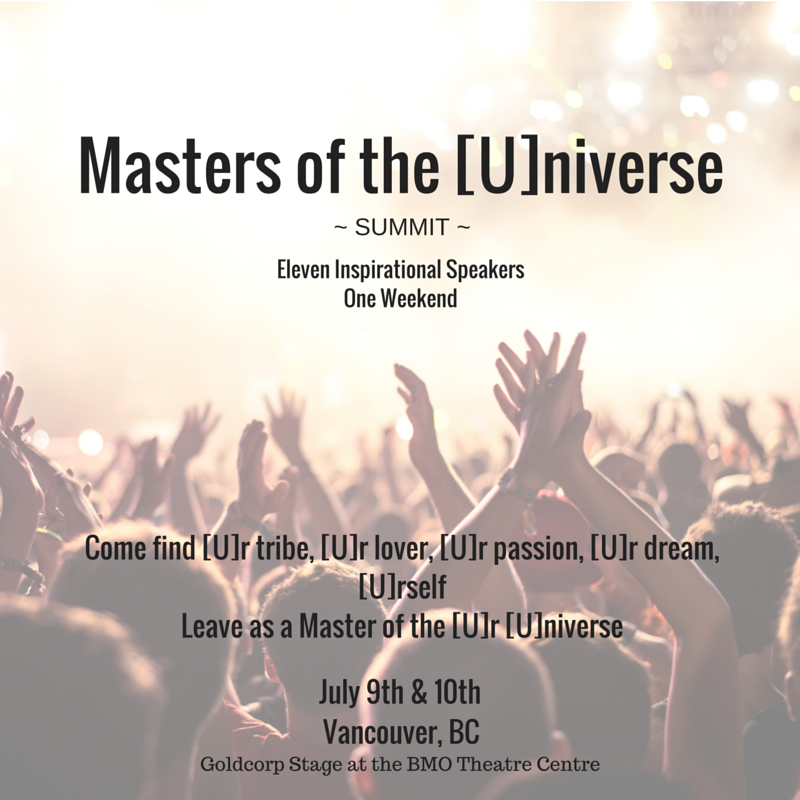 16 May

I'm speaking in Vancouver, July 9-10 at Masters of the Universe Conference

"Eleven amazing human beings will be each taking the stage. Messengers, motivators, trail-blazers, creators, inspirational ass-kickers… whatever you want to call them… they have each helped transform so many people's lives, including my own." –Mark Groves, Host + Convener of Masters of the Universe Summit.

I'm so honored to be one of the speakers! July 9-10 in Vancouver.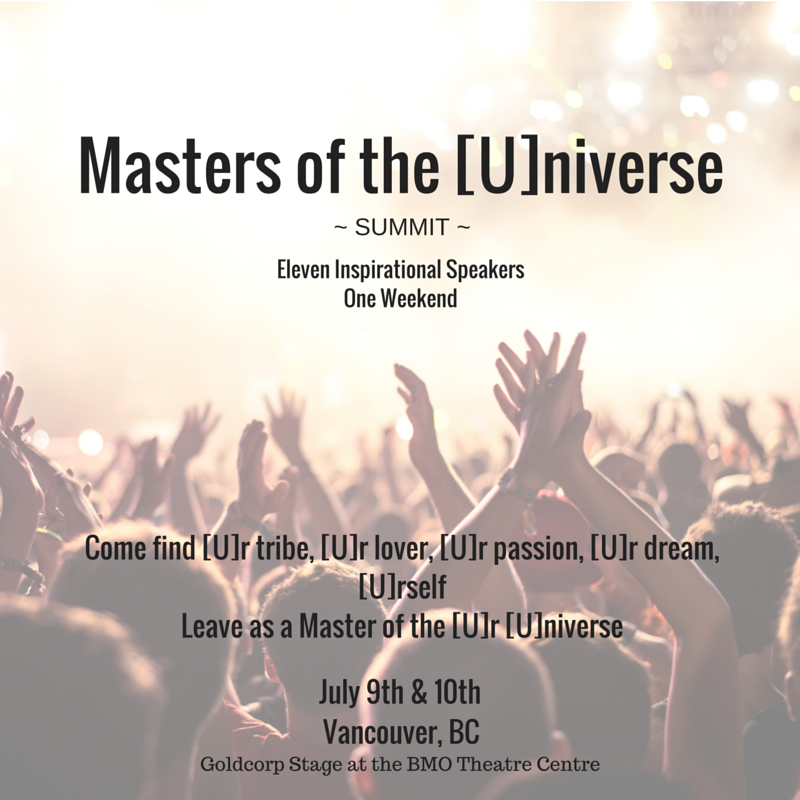 In this Weekend experience you will:
Connect – Meet 200 likeminded and like hearted people who are all on a quest to make their lives better and contribute to this world in meaningful ways.
Create – Connections with yourself, to your heart and what inspires you to unleash your creative spirit into the world and all you do.
Master – Your inner world, mastery is a lifetime process and certainly can't be done overnight, however you will gain insights and actionable that will assist you in creating your life to be an ongoing expression of your mastery.
Transform – What you believe is possible. You will learn that change is choice and that all it takes is one step in the direction of your dreams. That's when we create momentum and see that we truly are creators.
Inspire – You will be inspired and you will inspire others. You will say the words and be the person someone else needs in that moment. You will find inspiration in the seemingly mundane… because there are no coincidences, only unseen synchronistic moments waiting to leaped on. You will leap.
Mastering You. Understanding your [U]niverse. Connecting the dots, and living a LIFE you LOVE. This is why we are here right?
You will hear from people who have been exactly where you are. Other human beings who just happen to be World Class speakers, who have mastered, and continue to master their authentic connection to their own hearts, and in turn, their purpose.
We are excited to bring a limited tribe of just 200 people together to be inspired, leave our dent in the Universe, find deeper love, and connect deeper with ourselves. If that doesn't already sound elfin amazing, we'll do it all whilst nestled oceanside and in the mountains in one of the most beautiful places on earth…Vancouver, BC.
Come find [U]r tribe, [U]r lover, [U]r passion, [U] dreams… [U]rself.
Leave as a Master of the [U]r [U]niverse.
 Take advantage of the Early Bird price of $299 ($399 Regular) which ends on June 9th! There is limited seating and tickets are going fassssst. Enter LOUIS as a coupon code to get $50 off!