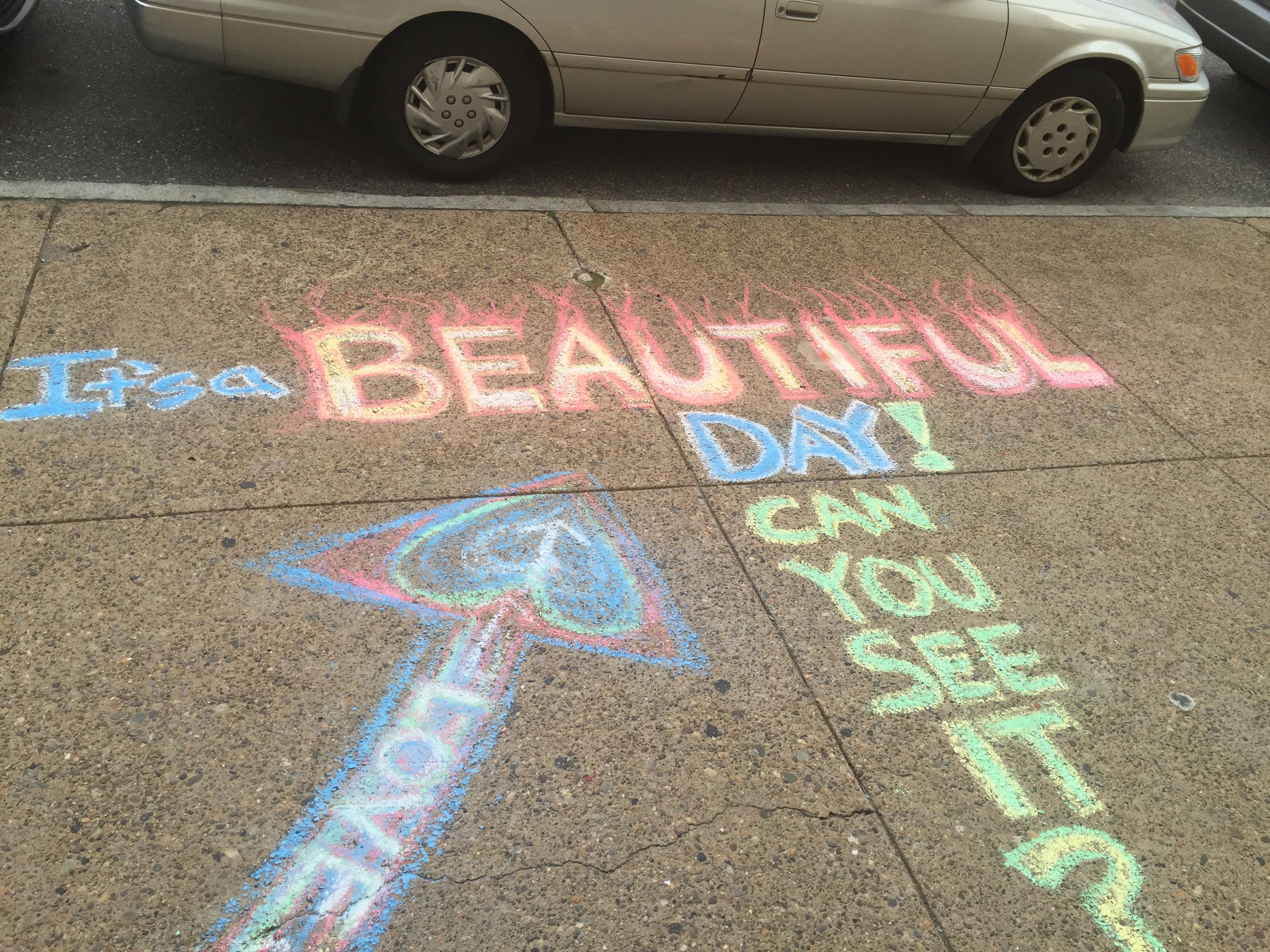 26 Jul

Volunteer event July 29 in Philly #pospsy #changeagents

On Saturday, July 29 we will convene for a volunteer event that will leave you and an anonymous recipient feeling especially charged.  Our task will be to leave messages on sidewalks — with chalk and by simply leaving greeting card messages in "random" locations around the city. Our mindful creation, filled with love, will certainly find their way to the right recipients.
One morning, in 2015, I woke up and walked down to the first floor of my building and onto the sidewalk — where I stumbled into the chalked gift above. It felt so good to receive this surprise message, which I later learned was from my friend Meghan (Meghan D. Bickel, CAPP).
This event is inspired by Kim Quick (Kim Quick, MA, CAPP) who found one of these notes years ago, "randomly" on the street. Have you ever been courageous enough to move to a new city? Kim was new to Philadelphia and feeling especially lonely at the time as is often the case, which is something I can attest to, after taking the smart risk to move to a new city. At a time she was experiencing a life struggle, finding a note like this on Ben Franklin Parkway one day made all the difference. Today we are going to try to make "all the difference" to the recipients and benefactors of our altruism.
Over the past several decades we have seen a growing body of research that indicates volunteering provides individual health benefits in addition to social benefits. This research has established a strong relationship between volunteering and health: those who volunteer have lower mortality rates, greater functional ability, and lower rates of depression later in life than those who do not volunteer.
So, if you can, come volunteer with us on Saturday, July 29…rain or shine. We will meet at my house in South Philadelphia around 10:30 am and will end by 1 pm. Some yummy brunch will get our juices flowing before we set out to spread the love. We'll have chalk and greeting card making supplies but feel free to bring your own yummies and materials, if you'd like, too. If you'd like to join us, please email me louis@theflourishingcenter.com to RSVP. Children* of all ages are welcome. *Bring your child like selves.
Big thanks to Jen Bergbauer (CAPP 16) for coordinating this event. I'm so excited for it!
Ps. Remind me to share with you what I learned at the Fifth World Congress in Positive Psychology in Montreal a couple of weeks ago.