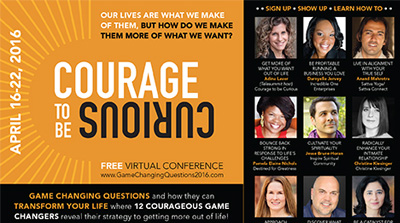 22 Mar

Courage to be Curious: Free Virtual Conference
I have been invited to present along with 11 other Thought & Wisdom Leaders in a global virtual conference: Game Changing Questions and How They Can Transform Your Life! This powerful event invites us all to think about how courageously and authentically we are living our lives and provides game changing tools and guidance for making the next shift. The event is free and registration opens on March 29th. Check it out!
Want to participate? More info and register here.