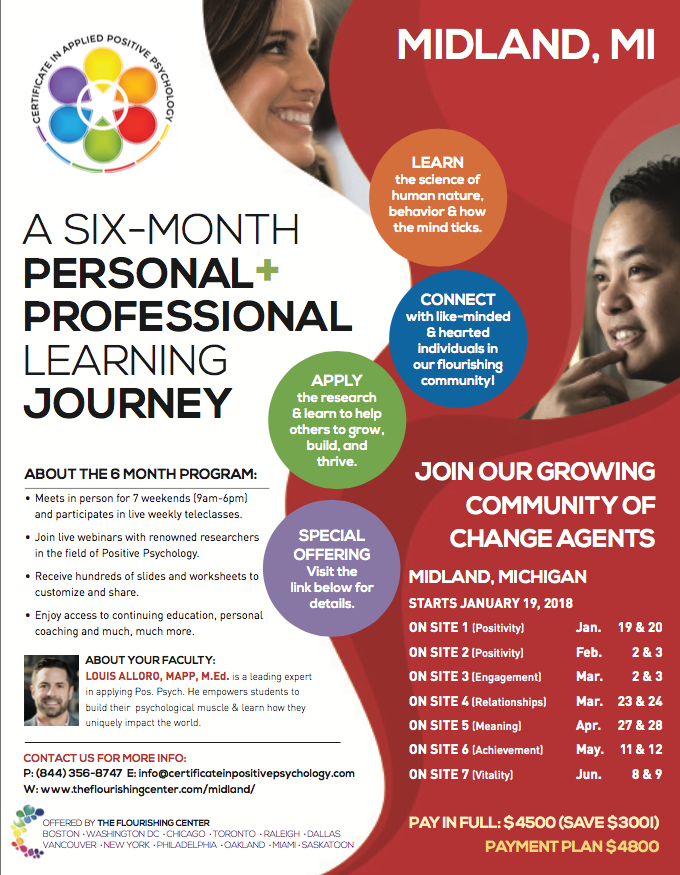 16 Nov

Special section of CAPP in Midland MI starts in January

NEW YORK, NY – The Flourishing Center (TFC) now offers its top-rated Certificate in Applied Positive Psychology (CAPP) program in Midland, Michigan beginning in January.

CAPP draws a unique and diverse cohort of participants: educators, wellness and fitness coaches, entrepreneurs, business leaders, HR professionals, organizational and leadership development specialists, everyday citizens and more. All participants are social-emotional leaders or change-agents who have influence on others.

The program is rigorous in content providing participants with cutting-edge research in applied behavior change science, cognitive neuroscience, mindfulness, contemplative studies and mind-body medicine. The program is designed to support the Midland county initiative "Together-Forward-Bold: An exceptional place where everyone thrives."

There is no prerequisite for the training other than a deep desire for learning in becoming "the change you wish to see in the world." Participants learn how to help others achieve their goals, build their engagement, optimism and resilience, transform negative relationships into authentically positive ones, grow their optimism, identify their life purpose, increase their awareness and use of their strengths, overcome debilitating mind chatter and so much more.

Since 2012, nearly one thousand people have earned a Certificate in Applied Positive Psychology (CAPP) by attending two days of face-to-face training per month, in addition to participating in weekly distance learning classes and completing a final project.

Recent research on the participants of this program has shown an 84% of the CAPP graduates say that the program exceeded or far exceeded their expectations. Greater than three quarters of the participants experience a decrease of stress and an increase in mindfulness, self-efficacy and flourishing. All of these results were statistically significant, and will be published later this year.

The program is founded and led by graduates of Martin Seligman's University of Pennsylvania Master of Applied Positive Psychology (MAPP) program, the first of its kind in the world.

The facilitator for this special cohort in Midland is Louis Alloro, MAPP, M.Ed. Louis is a change-agent whose background and training places him at the intersection of Education (teaching & learning) and Positive Psychology (the science of optimal functioning, success, and happiness). Louis works with individuals and organizations of all kinds in facilitating positive growth.

The plan is to align and coordinate Midland area change-agents to work on instilling positive systemic change during the program and beyond.

Additional information about the special Midland cohort, including a link to register, is available on the website: https://theflourishingcenter.com/midland/.

About The Flourishing Center: TFC is a New York City based Benefit Corporation (BCorp) whose mission is to spread the tools for masterful living around the world. It does so through experiential learning and development opportunities for people's mind- body-spirit. Grounded in the science of human nature and behavior, TFC's offerings help change-agents flourish in their life and work while at the same time helping others do the same.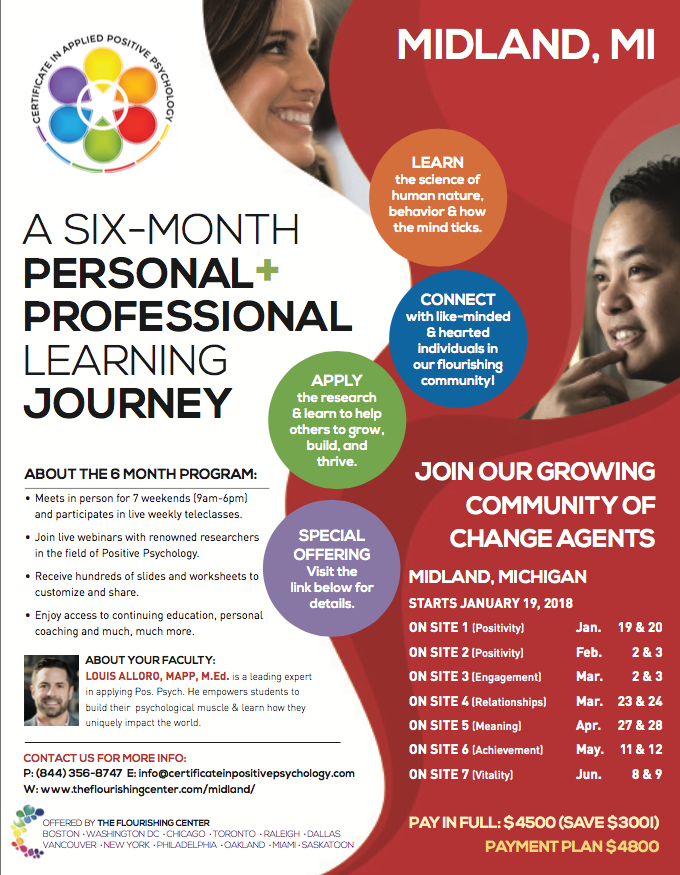 ###